My story part 2
A solo trip around Europe in the summers of 1960 and 61.
Part 2 The Winter in Frankfort with my folks and the adventures
of the following summer.
<![if !vml]>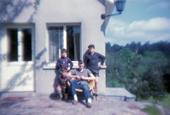 <![endif]>At the end of part 1 I was heading north from Italy and when I got to Germany and found the rental house where my family was living on the outskirts of the town of Langen in Hesse in the middle of a section of family garden plots. (My brother and his German friends on the terrace in front of the house) . I got settled in and after getting rested and finding a Vespa dealer who could straighten out my bent machine I looked for a job to carry me through the winter months. A shot of me and the repaired Vespa outside the garage of the house.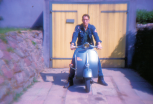 I was able to find a job at the Class 6 (the base liqueur store) on the Air Base at the Frankfort Air Port. There was an older German man in charge and I did Stocking and worked the cash register. It was maybe a 30 to 45 minute ride on the Vespa to the store unless there was Fog (sometimes so thick I could barely see the front wheel of the scooter) or snow which made for some tricky driving. It wasn't a hard job but stacking the cased of booze in the warehouse was not always easy as some of the cases were a mite heavy. <![if !vml]> <![endif]>Especially the large Jeroboams of Champagne and spilled Champagne smells awful. The one thing of note during the time there was around Christmas time when I was opening a case of Johnny Walker I found a card from the girl who did the packing with a name and address so I sent a Christmas card and that started a bit of correspondence. Back to that a bit later in the story.
Sometime in April or May, memory fails me on this. I packed up, loaded the Vespa and headed off on another road trip.<![if !vml]> <![endif]> I did have a helmet; I found a used fighter pilots helmet in the base thrift shop. Myjean jacket with patches from various towns that I sewed on the previous summer. So off I went on the road with no particular plans, just sort of going day by day. I headed north to Denmark then crossed over to Norway and going up the western side as far north as Trondheim. Once I was past the more populated southern part the road became dirt/gravel and the surroundings were thick pine forests. Cars all had grills over their head lights to protect them from flying stones and the small towns had the feel of the frontier. It was beautiful country to drive through.
Again memory is scant but I probably stayed at most two days in Trondheim before heading west towards Sweden. When I reached the border I had a bit of a surprise, between the Norwegian border and the Swedish border the road made an X since the Norwegians drive on the right and at that time the Swedish drove on the left. I was now in for a time of left hand driving and was glad I had the Vespa and not a car. I don't remember much about the trip it was mostly driving all day and finding a camp ground or Youth Hostel for the night. Cities were mostly to hit American Express for mail and then moving on. I went through Copenhagen and soon crossed back over to Denmark and then down the west coast of Germany to Holland.
Holland was unfortunately in a rainy spell so I pushed on through fairly quickly. My only memory was seeing Dutch police on the highways driving convertible Porches with a blue light on a pole above the roll bar. Oh, and I did find some "camping butter" that didn't need refrigeration which was nice for my campground meals.
From Holland it was on to Belgium and the across the Channel to England. I traveled up to London where was able to a week or two (memory again) with the family of an Air Force friend of my fathers. They had an old house complete with thatched roof in the town of Escher outside of the city. They had a couple of children and a Hannah a Danish Au pair living with them. While I was there Hannah and I would take the scooter into London to do some site seeing and attended a ballet with Rudolf Nureyev and Margot Fonteyn,

I also traveled by myself down to Brighton for a day, went to cross country motorcycle race and rode out and visited Stonehenge before heading west to Wales and the port

of

Holyhead for a ferry across to Ireland.
Once in Ireland I started to ride south to go clockwise more or less along the coast again camping or hosteling. I did make a stop at Blarney Castle and visited the Blarney Stone otherwise it was mostly just riding and enjoying the countryside. I continued around and up the coast to the north stopped and saw the Giants Causeway before swinging around south to the port a Larne north east coast where I would catch a ferry across to Scotland.

I got to Larne in the evening after the last ferry had gone and the next one was early in the morning, so I made myself as comfortable as possible stretched out on the Vespa to spend the night in the parking lot of the ferry dock.
Arriving in Scotland I headed north along the west coast heading for Glasgow.

And this is where we hark back to the note I found in the case of Johnny Walker while at the Class 6 store.

The gal I had been corresponding with lived in Glasgow and I had arranged to visit when I came through.

I found her home (she lived with her parents and family) and visited a couple of days. Very nice people (names all lost in antiquity) but very hard to almost impossible to understand their version of English.

Any since her mother would not allow her to ride on the Vespa we caught a bus for a day trip to Braemar to see the highland games which were in progress. While there I also visited a big camping supply store and purchased a new tent.

My old dime store pup tent was beginning to leak at the seams and it was quite small so I decided to upgrade. I found a large Egyptian Cotton tent with polls I could put either inside or outside and a large fly sheet to go with it. I now had plenty of room and would stay dry. I could even stand up in it but unlike the modern tents of today what with all the guy wires it had quite a large footprint.
<![if !vml]> <![endif]>

This is the tent 7 years later on our honeymoon in Montreal for the World's fair. After leaving Glasgow I worked my way north to Loch Ness and then was planning on head on up to the northern tip of Scotland, but I had been listening to the BBC broadcast from the Edinburgh Festival and decided to head there instead. Heading south west I made my way to Edinburgh and found a camp ground outside the city.

I spent about a week there driving in to town to taken in the festival events that I could get tickets for.

Those events that I can remember were an exhibition of works by Alberto Giacometti, a production of Shakespeare's Richard III, a production of Donizetti's Lucia di Lammermoor and an organ concert in an old stone church. I also discovered a Chinese restaurant with some of the best sweet and sour pork. I spent about a week there and then headed south into England heading for a channel crossing to France. If memory serves me right the crossing was done on a hovercraft ferry from Dover to Calais.
Once in France I headed south on the main routes close to the coast heading for Spain with the intention to follow the coast of Spain heading to Portugal. Following my usual practice of enjoying the country side and camping/hosteling I travelled through the vineyards and small towns till I reached Spain. It was now the beginning of September and as I turned west along the northern coast of Spain I began to encounter two things, the first was the fact that campgrounds were closing for the season and the second was that the Vespa was not running well. It would stall even going downhill, not a good thing at all. I made it to the town of Santander and found a small hotel that was open and had a very inexpensive room available. There was a Vespa shop in town and I took the scooter in to have it checked over. All appeared to be working fine, but it would still stall on me. Taking this and the closings for the season I decided to turn around and head back to Germany to my family before going back to the US. After a couple of days at the hotel I packed up and head back to France hoping that I could keep the Vespa running. Fortunately it wasn't too far to go to get back to France and fill up with Esso (gas and oil mix that the scooter used) and lo and behold it now ran fine, no stalls. It turned out the only gas to be had in Spain at that time was Firestone and the Vespa absolutely did not like it.
Having decided to wrap up the trip, I headed as directly as possible for Frankfurt and home. Riding dawn to dusk I think it took 3 to 4 days to make the trip. The one thing I remember about the trip was stopping at a bakery in France for some breakfast and picking out several turnovers which were fresh and good, all except for one which for some strange was full of anchovies and not fruit, Ugg , did not finish that one. Arriving back Frankfurt I stayed with my folks who were now on the base in Quarters. The end of the trip <![if !vml]> <![endif]> and I sold the Vespa and visited for a few weeks, did lots of reading from the base library and unwound. I also borrowed my dad's old mercedes (stick with the shifter on the dashboard and a bit different to drive) to travel up to a small village on the west coast of Denmark to visit Hannah ( the au pair from my visit in London). Had a nice visit ofer a weekend and had to behave myself as far as the offered meals, openfaced sandwiches with must unaccustomed meats (took the ones I thought I could eat, not Beef hearts and brains) and it being a fishing village fresh caught fish, again not one of my favorite dishes. A nice weekend trip all in all and then back to Frankfort.
Soon it was time to head back to the US, to stay with my aunt and cousins in Falls Church, Va. Since I was not in school and the draft was active I decided to beat them to the punch and enlist, I was shooting for the Special Forces, but the recruiting Sgt. said that since I wore glasses they wouldn't take me because I couldn't jump (from planes that is.) I ended up at signal school after basic and while there we had a visit from a Special Forces Sgt. who when I asked said glasses, no problem, so that is where I went next.
And that ends my tale of my adventures around Europe.