My story part 1
A solo trip around Europe in the summers of 1960 and 61.
Building up to the trip, what came before.
(A short caveat, I am often vague on names and am remembering only certain events that were noteworthy. I have lost some of the pictures and if I ever kept a journal, that is long gone. What can you do after 60 years?)
A short history of what came before the trip. Having completed 2 years of Pre-Forestry at Colorado State I came to the conclusion that the academic world was not for me and I dropped out. (and saved Dad some money). Returning home to the Culmore area of Northern Virginia, I got a job as an engineering aid at a R&D company an easy bike ride form home. I worked there about a year then quit, bought a Raleigh 10 speed bike, put together a travel kit and bought a passage on the French line passenger ship the Flandre. <![if !vml]>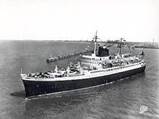 <![endif]> Dad drove me to NYC where I boarded the ship bound for Le Harve.
A sea voyage.
This was my second ocean crossing, the first being across the Pacific as a military dependent on a Navy troop ship. This was quite different, a civilian ship, a French ship and I was now I bit older, 21 rather than a freshman in High School. The things I most remember were the meals. There was the French cooking, several courses (small portions) with sauces and red and white bottles of wines on every table. I would have loved a good old American Hamburger! Oh, and breakfast. If you asked for a fried egg it was served in its own little ceramic frying pan and I swear the cook just waved it over the flame as he handed it to the waiter. Had to send it back twice to get it cooked. After that it was oeufs brouillťs (scrambled) for me. I met a number of other young people on the ship to hang out with and one girl from Austria <![if !vml]>

<![endif]> who was easy to talk to. We had to laugh at the dancers in the lounge who would shuffle in a group from side to side as the ship rocked and it was hard to play ping pong as well as you could be going for the ball as the ship tilted and you sort of kept on going in that direction. All in all it was a great trip, but I was glad to reach Le Havre
Landing in France and the first part of the trip.
Arriving in Le Havre I got off the ship and recovered my bike box from the hold and made it through customs. Finding a quiet place I unpacked my bike and got handlebars and pedals attached and loaded up my bags, tent and duffel and other supplies. I got out my Hallwag road atlas and started planning my route by looking for youth hostels on the route. I would love to have a photo of my bike, but if I took any pictures, a great many have gone missing over time and only a very few remain. So off I went heading for Paris stopping at hostels or campgrounds along the way. I would cook a quick breakfast in the morning and start riding often seeing a particular car pass that I would see again once or twice during the day. Lunch would be something light from a passing market and when I reached my stopping point I would gather the makings of dinner, again from the local markets. Often a can of corned beef, a potato and a vegetable (an onion for sure) and cook up some hash. I continued I this way till I got to Paris where it was quite a rough time getting through the city traffic on my way to the hostel in the city. Often I would stop at a corner for directions which got me to at a couple turns ahead and then more inquires till I reached my destination. (Way before a handy GPS guiding the way).
Not being much for sightseeing and museums I generally spent little time in the cities, usually only checking at an American Express for any possible mail. Once out of Paris and into the country side it was pleasant riding each day enjoying the sights as I rode along. Often I would just get a loaf of French bread and a bar of Swiss chocolate to eat for lunch. The hardest thing I had to get used to was the French facilities, rather primitive after ours, being just ceramic place in the floor with a hole and two footsteps and the TP was either the constancy of wax paper or crepe paper.
As I was heading west I came to a long rise up to a plateau that took the better part of the day in a series of ups and downs but steadily rising. For a good while I would pass a man on a moped like bike towing a kayak on a trailer on the uphill climbs and he would pass me on the descents. On this day I did stop at a small inn/eatery for a hot bowl of soup because all the climbing had left me hungry. On reaching the top of the plateau and crossing it to the other side I began a downhill of at least 10 miles down to the river valley, I travelled a good bit over 100 miles that day which turned out to be my longest day.
Somewhere I found a place for the night (again memory deserts me) and the next I continued south towards Marseilles following a river valley. The next stop of memory was Avignon on the Rhone River. It was here that a ended up staying a couple of days as I tried to get new tires and tube for my bike. It seems that on the narrow roads I had been forced to ride on and off the shoulder when being passed by a slow Citroen
<![if !vml]>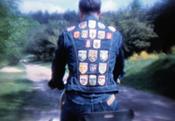 <![endif]> being passed by a faster Renault <![if !vml]>

<![endif]> and all of us by a Mercedes
<![if !vml]>

<![endif]> The results were that my tires ended up being pretty chewed up and I needed new ones. I went to all the bike shops I could find and no one had tires to fit because my bike was English and the sizes were not metric. What to do? I could not continue without new tires, so I took some time to sightsee, visiting the Popeís palace <![if !vml]>

<![endif]> and the Pont de Avignon <![if !vml]>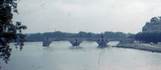 <![endif]>. I ended up taking the train along with my bike to Marseilles and shipping the bike to Germany where my dad was now stationed.
In Marseilles and buying the Vespa.
On reaching Marseilles I was able to find a Hostel in an old manse on a hill looking over the city <![if !vml]>

<![endif]> and there was camping space on the back lawn. I set up my tent there and made inquiries about shipping the bike to Germany. When that was done I began the task of buying a Vespa <![if !vml]>

<![endif]> which was quite an adventure. I met a fellow traveler from Holland at the Hostel and he being multi lingual (as he put it no one speaks Dutch so we must learn other languages) he was able to assist me in getting through some of the bureaucracy involved. Purchasing the Vespa was not the problem, it was getting the license, insurance etc. that was. Go to one office and be told you need something from another office and when you get there its closed for lunch. Finally get the need document and its back to the first one and itís closed. So itís back again tomorrow. Well, you get the idea. It took several days to finally be legal. Meanwhile my Dutch friend and I would hit the markets in the mornings and buy vegetables, Tomatoes, carrots lettuce onions of various kinds, garlic and peppers and put together a huge salad which served as the base for the dayís meals.
Once I was set with the Vespa it was time to head on down the road to Rome. Since I had a passenger seat I offered my friend a ride to his next stop along the way.
The road to Rome.
The trip to Rome took us south along the west coast of Italy and about the only things I remember about the trip was a brief stop at Pisa to see the tower and I am sure I took some pictures, but they are long gone. The other thing was stopping at bakery for some dark bread, round and as heavy as a cannon ball. Otherwise it was just the great scenery to be seen along the costal road.
<![if !vml]>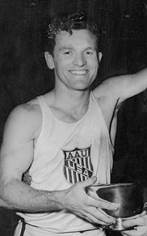 <![endif]>I dropped my friend off somewhere along the road and continued on into Rome where I looked up my fatherís cousin who was living there at the time. I was able to find his apartment and stopped to say hello. He offered lunch but he had a house guest so no room to stay. The guest who I met was The Reverend Bob Richards. The Reverend Bob Richards was a theology professor in California when he qualified for the U.S. Olympic team as a pole vaulter in 1952. The duel for the gold medal was waged between Richards and fellow American Don Laz. They both cleared 4.50m with their second attempt and then missed twice at 4.55m. But Richards went over on his third try and won.
After lunch and a short visit I worked my way to the northern outskirts of Rome and found a large camp ground where I got a site and set up my tent. The next day I rode the Vespa in to the city and found the American Express office to check for mail and also found a number of people with tickets for Olympic events for sale.
I got a schedule of events and found tickets for those I wanted to see and planned my day. I was able to get tickets for some of track & field events in the Olympic Stadium.<![if !vml]>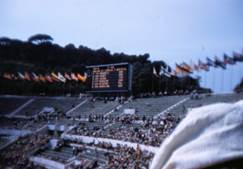 <![endif]> I was even able to get s seat on the finish line about 3 rows up for Wilma Rudolphís gold medal finish. I was also able to get some tickets to a couple of the USA basketball games especially the one against Russia. And found a spot near the Coliseum to see Abebe Bikila the barefoot Ethiopian runner as he passed by. I did some touristy stuff as well, visiting some of the landmarks and since it was hot cooling my feet in a fountain and inadvertently dangling my camera in the water and having the Iris freeze open so all my subsequent pictures were blank.
<![if !vml]>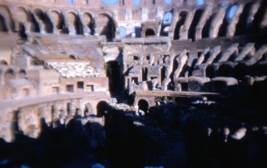 <![endif]>At last it was time to leave Rome and head north. Stopping on the way to check the map as I headed up along the East cost.
Heading north on the way to Frankfurt and my families new home.
<![if !vml]>

<![endif]>Remembering only a few things I interest on the trip north. Great scenery and the small towns I passed through. Stopping to check the map. I know that I stopped in Vicenza to shop at US military base and do some shopping at the Commissary. Then I continued on north towards the Alps. One afternoon as I was riding through the country I got a bit drowsy and managed to drift onto the shoulder and slid on my side into a granite road marker. I had only minor scrapes but the Vespa suffered. The front and the handlebars were bent back to about 2 inches from the front seat.
As I was shaking off

the shock and surveying the damage a small pickup stopped and the driver came to see if I was ok. It turned out he was a mountain trouper and he offered to take me and the scooter to the nearby hospital. I agreed because I did need to get the road rash and scrapes cleaned up and a couple of bandages.

After being treated I went out to get a look at the Vespa, was it going to run or was I stuck out in the middle of the country with no transportation.

Except for the bend it looked ok so I gave it a crank and it started right up.

With a big sigh of relief I settled myself on the back seat and in that fashion I continued on my journey even going over the The GroŖglockner High Alpine Road without any problem. The only thing that bothered me was the fact the hairpin corners
<![if !vml]>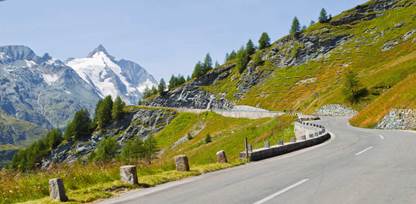 <![endif]>
Were all cobblestoned and tended to be slippery when wet. From there to Frankfurt it was pretty much all Autobahn driving which was again no problem despite the high speed of the cars and trucks. At time most of the commercial trucks in Germany that I saw sat up rather high and were pulling two trailers also sitting up high and when I passed them the diesel exhaust was just about level with my head and when I got to my stop for the day and took off my goggles I looked like a reverse raccoon. I made it to Frankfurt and was able to find the rental house my folks were living in outside of the city in the middle of an area of family garden plots.
That is it for the first summer; I will put together another tale covering the winter and the next summerís adventures for the next issue.
End part one.